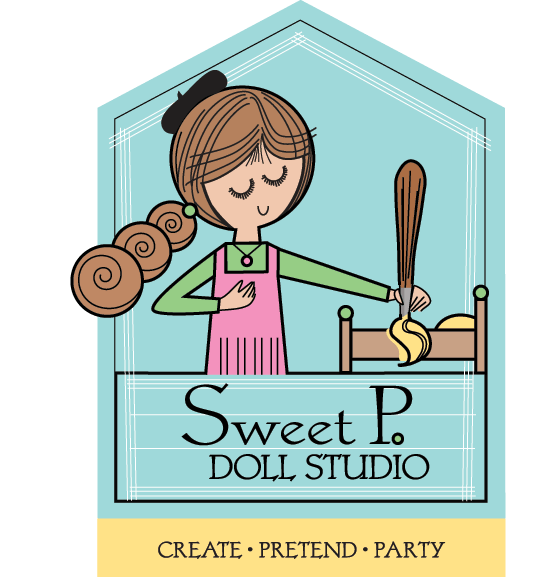 A Unique, Creative Experience
with your doll or 18" friend that will be Unforgettable!
630-793-5550 312-518-5845
Announcing
SWEET P. MOBILE!
We will come to YOU*!
*Glen Ellyn
STUDIO location is CLOSED
Fairy Garden Workshop
Now Glen Ellyn Location...
Decorate a Garden Outfit and Hat
and make your doll her own"Fairy Garden"
Saturday June 11th or Saturday June 25th
Any 90 mins between 1-4pm..Cost $38
or
*Friday June 24th...Girls night Out ... 5-7pm... Glen Ellyn
*Includes pizza, fruit, lemonade and dessert..Cost $42
*This is Drop off only event..Child must be 4+and able to stay alone
*Friday April 22nd Girls night Out ... 5-7pm... (Elmhurst)
*Includes pizza, fruit, lemonade and dessert (SOLD OUT)
Workshop includes TWO CRAFTS:
Garden outfit to Decorate
&
Mini Fairy garden to make and decorate
Spring nails
Garden Hair piece for girls and dolls
*Does not include garden shoes, tools, bag and
watering can but available for special purchase.
To Register..Go To Classes/Camps/Workshops tab
Summer Camps Now Available
for sign up..
Go to our Classes/Workshops/Camps Tab to View and Register
Spring Walk-In Activities:
Play with giant 14' Doll House
Cost: $8 for 90 mins or
FREE with $8+ Purchase
SPRING ACTIVITIES...
Swim Suit and Cover up plus bling….$22
Personalize a Beach Chair….$28
Bling a Spring Denim Jacket…$22
Decorate a Robe and Slipper Set…$25
Paint and Personalize a Raincoat and Boots...$28
*Also many other outfits or seperates to decorate
PLAY-DATES
Let us host your next play date. Gather some friends and meet at
the studio to enjoy a few hours of play and a treat with your doll.
Cost: $8/child
*One guardian per 5 children/ 5 child max
*Play is FREE with a purchase of $8 or more
Call 630.279.5453 to make a reservation
If you are planning to celebrate a birthday kindly let our staff know
prior to your visit!
*Cafe treats for girls and dolls are an additional charge
SCOUT OUTTINGS
EARN YOUR PATCHES AT SWEET P.
Use our studio space to earn your art/craft patch. Let us know your theme and we can personalize your activity for your troop. After crafting, enjoy playing and pretending in our giant 14' three story dollhouse. Prices vary from $12-$20/girl depending on the project. Sweet P patches are also available!
Project ideas can also be custom and relate to any theme or holiday!
*Project does not need to be a doll themed craft, various art projects available. See our Parties/Scouts tab for more information.
NOW

Booking Spring/Early Summer Parties
*After May 8th Parties will be at our
New

Glen Ellyn Location

only...
Let us create a special party for your doll lover. Choose from a variety of themes and then personalize your event. All parties include time to play with our 14-foot custom doll house, a doll-related craft, coordinating birthday cupcake and lemonade for each doll and a personalized goodie tote to carry it all home. Each guest will also enjoy being pampered with a nail design and fun hair styles for both the girls and dolls. Let your imagination run wild!
NEW!!
Birthday in a box..
Have a Sweet P. party in your own home!
Let us do all the work and you provide the space.
Visit the Parties page for more information.
Shamrock Shirts