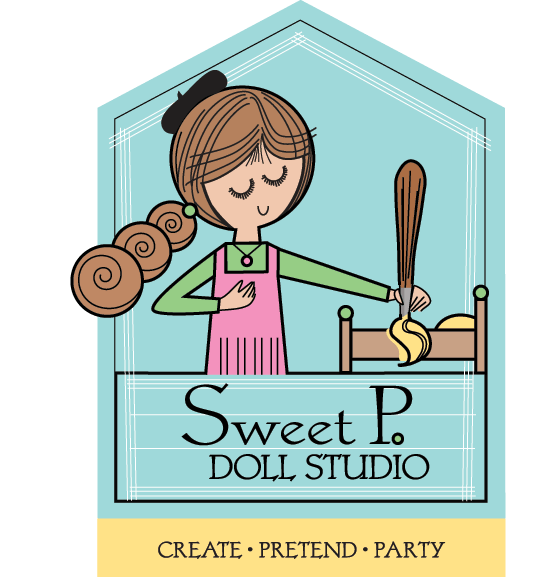 A Unique, Creative Experience
with your doll or 18" friend that will be Unforgettable!
630-793-5550 312-518-5845
Announcing
SWEET P. MOBILE!
We will come to YOU*!
*Glen Ellyn
STUDIO location is CLOSED
Upscale Fashions and

Unique Furnishings
Put your own touch on it!
Do you have an eye for design? At Sweet P., you can add to the already
cute clothes and personalize your outfit.
Choose from a huge variety of stones, sequins, studs, trims, appliques and more at our "bling" table. Just add them to your piece and it becomes a one-of-kind design!
Custom Furnishings and Furniture
At Sweet P. you can find beautiful hand made doll bedding and accessories to compliment any girl's room. We use the newest fabrics which include a mix of rich texture and color to make our irresistable furnishings.
Does your doll need a new piece of furniture? Choose from beds, bunk beds, desk and much more. Come in and paint your own
piece to match your room!
Design your own Doll Bedding
If you don't see the colors of fabrics you need, ask one our staff to help you design bedding to match her room. Bring in a pillow cover and we will make a set to match!
Toys and Gifts
Below is a sample of or gifts and accessories for 18" dolls. Call us to check on stock or place an order!
Pink Cowboy Boots Pink Buckle Boots Pink Uugs
Princess Skating Outfit 1 Queen Skating Outfit 1 Queen PJs
Princess Fur Coat Wheel Chair and Accessories
Brown Horse Puppy Set and Accessories Pink Jeep
Balance Beam Claw-Foot Bathtub